Thou art not thyself, For thou exists on many a thousand grains
That issue out of dust. Happy thou art not;
For, what thou hast, forget'st. Thou are not certain,
For thy complexion shifts to strange effects, After the moon.
If thou art rich, thou'rt poor; For, like an ass whose back with ingots bows,
Thou bear'st thy heavy riches but a journey, And death unloads thee.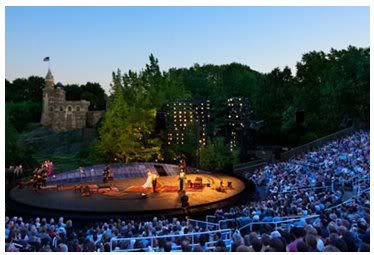 In January, I write a post about
Liev
participating in a New Yorker Festival panel on Young Shakespeareans, in which
Liev
says that he would like to work on a production of Measure for Measure.
HERE.
Later on, choosing to be optimistic about said project, I elaborate on a little M4M for the Layperson,
HERE.
On Sunday,
Liev
is quoted in an article as saying that he might do Shakespeare in the Park this summer.
HERE
.
Last night The Public Theatre website is updated with some details on two Shakespeare productions for their Summer Season at the Delactorte. One of them is
Measure for Measure
.
HERE
.
Our Survey Says?
In the hopes that Liev will fulfill his M4M wish and be on that stage this summer, I dug up this audio interview with Himself and the American Theatre Wing. Liev shares his feelings about what a unique experience it is for an actor to perform at the
Delacorte.
LISTEN HERE.
Or, here are my Top Ten favourite bits:
-
"It is as far as I'm concerned the greatest theatre space in the world."
-
"I really love it."
-
"You have the huge advantage of... it's just the most exquisite place to sit on a summer night."
-
"People are very happy to be there."
-
"It's an incredible tradition; it's an incredible gift from New York to itself."
-
"That good will that comes with the space goes a long way."
-
"It's a tough space, the physicality of it. I start working out about five weeks before just to get in shape."
-
"What I love about the Delacorte Audience is they're a little bit rowdy."
-
"Rain was coming down and we were all tired but the audience kept stomping their feet, wanting us to go on."
-
"Film is a completely different animal than Theatre... gives you that chance to build a relationship with an audience like this."